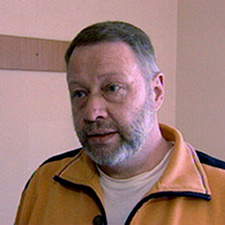 Edegius Schiffer was a German serial killer who was convicted of murdering 5 female hitchhikers between 1983 and 1990.
He died in prison this week after using an electrical cable from a table lamp in a bizarre sexual practice while in his cell. Prison officer found his body in the cell when they opened up on Monday morning.
He had attached the cable to his nipples and penis and then plugged it into an electrical socket giving him a fatal electric shock. A post mortem found the cause of death to be a massive heart attack brought on by an electric shock, suicide was ruled out. Schiffer's lawyer said the man was not suicidal.
Schiffer was sentenced to life imprisonment in 2008 after providing a DNA sample when he was arrested for stealing scrap metal. His DNA was linked to the historical murders.
Schiffer picked up female hitchhikers around the town of Aachen near the Dutch/Belgian border. He raped and strangled them earning him the nickname "Strangler of Aachen". His victims were aged between 15 and 31.
His life ended at the weekend in Bochum Prison.