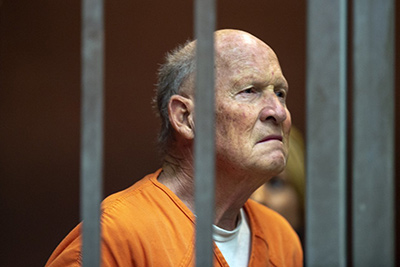 DNA may have solved a 40-year-old series of murder and rape in California in the 1970s and 80s.
California detectives compared genetic profiles against DNA samples from crime scenes to link to a relative of the potential murderer, Joseph DeAngelo. A relative of DeAngelo was identified via profiles from genealogy websites. Once that relative was known police were able to look into family lineage to come up with a potential suspect.
Once 72-year-old DeAngelo was identified as a potential suspect, police were able to obtain a DNA sample from his car door whilst his car was parked in a Hobby Lobby branch car park in Roseville, California. Five days later they obtained a further DNA sample from a tissue in the dustbin outside DeAngelo's house in Citrus Heights near Sacramento. The samples matched DNA found in semen left at crime scenes in southern California many years before.
DeAngelo has been charged with 12 murders, some of which occurred during burglaries in 10 counties in California. He is also suspected of more than 50 rapes and other crimes. The series of murders was collectively put down to the so-called 'Golden State Killer'. He was arrested on 24th April 2018.
DeAngelo was a police officer in the early 70s but was sacked after a shoplifting incident in 1979. Since that time he has worked as a mechanic for the same supermarket chain until retiring last year.
DeAngelo currently awaits trial.