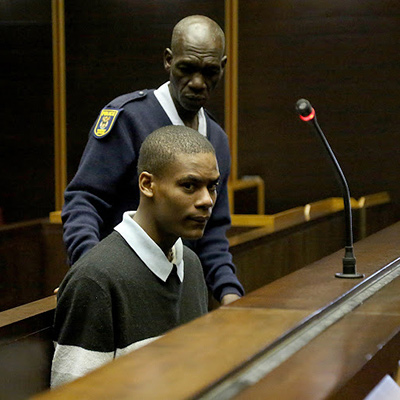 Kershwin Goldstone, 22-years, has been sentenced to three life sentences by a court in Pietermritzburg, South Africa.
Goldstone pleaded guilty to eight charges including three murders, housebreaking with intent, theft and aggravated robbery. He murdered Patricia O'Connor, 92, Roland Heathcote, 89 and Patricia Tugwell, 89 over a period of 20 days. He used drainpipes to scale walls and enter the apartments of elderly residents where he robbed and killed his victims. Ms O'Connor was strangled, Mr Heathcote was stabbed to death and Ms Tugwell had her throat slit with scissors.
Prosecutor Patty David told the court how Goldstone was linked to the killings by fingerprint and DNA evidence. He made a full confession during interview. He was arrested in July after being seen by security guards trying to climb over razor wire at Kenwyn Lodge, one of the locations he had previously killed at. Security officer gave chase and cornered him in a neighbouring property where he was arrested.
The son of one of the victims, Timothy O'Connor said of his mother and the other victims, one of whom was wheelchair bound, "They were totally vulnerable'. They would have been totally incapable in any way of posing a physical threat even if they had tried to defend themselves. "So, one is party to an incredibly extreme act of violence that is unconscionable and inexcusable."