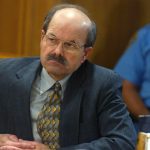 BTK Killer Dennis Rader has been questioned by police regarding an unsolved disappearance in 1976.
June 23rd 1976 16-year-old Cynthia Kinney went missing in Pawhuska, Oklahoma. Rader was questioned by Osage County Sheriff, Eddie Virden and three other detectives at the end of January 2023 at El Dorado Correction Facility in Kansas. Rader is serving ten life sentences for a series of murders during which he taunted police in letters signed BTK – Bind, Torture, Kill.
Nobody has been prosecuted over the disappearance of the girl after she was seen getting into a beige 1965 Plymouth Belvedere outside an Osage laundrette. Rader was committing murders in Kansas at the time of the disappearance.
It was reported that Rader denied any involvement in the girl's disappearance.